Where to Find Us > Insuretech Connect 2018
We hope you're all having a fantastic Insuretech Connect 2018 – it sure has been an action-packed first day so far. So here's our running highlights reel from Booth K1, along with all the #ITC2018 banter and an ever so occasional thought on the future of insurance along the way …
Oct 2nd: Day 1 Morning
First things first, great to see so many familiar faces in Vegas this year, as well as to meet a few new ones. Here's just a selection: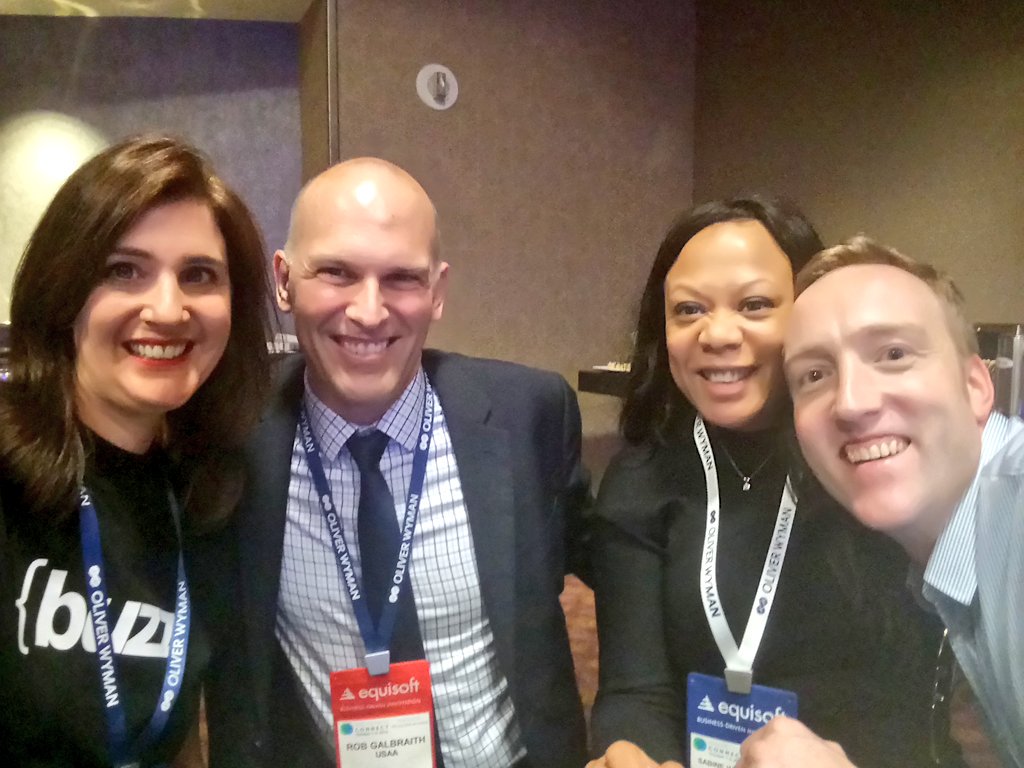 10.30am: The big highlight for us this morning was seeing our founder Becky Downing up on stage as part of a panel on customer enablement.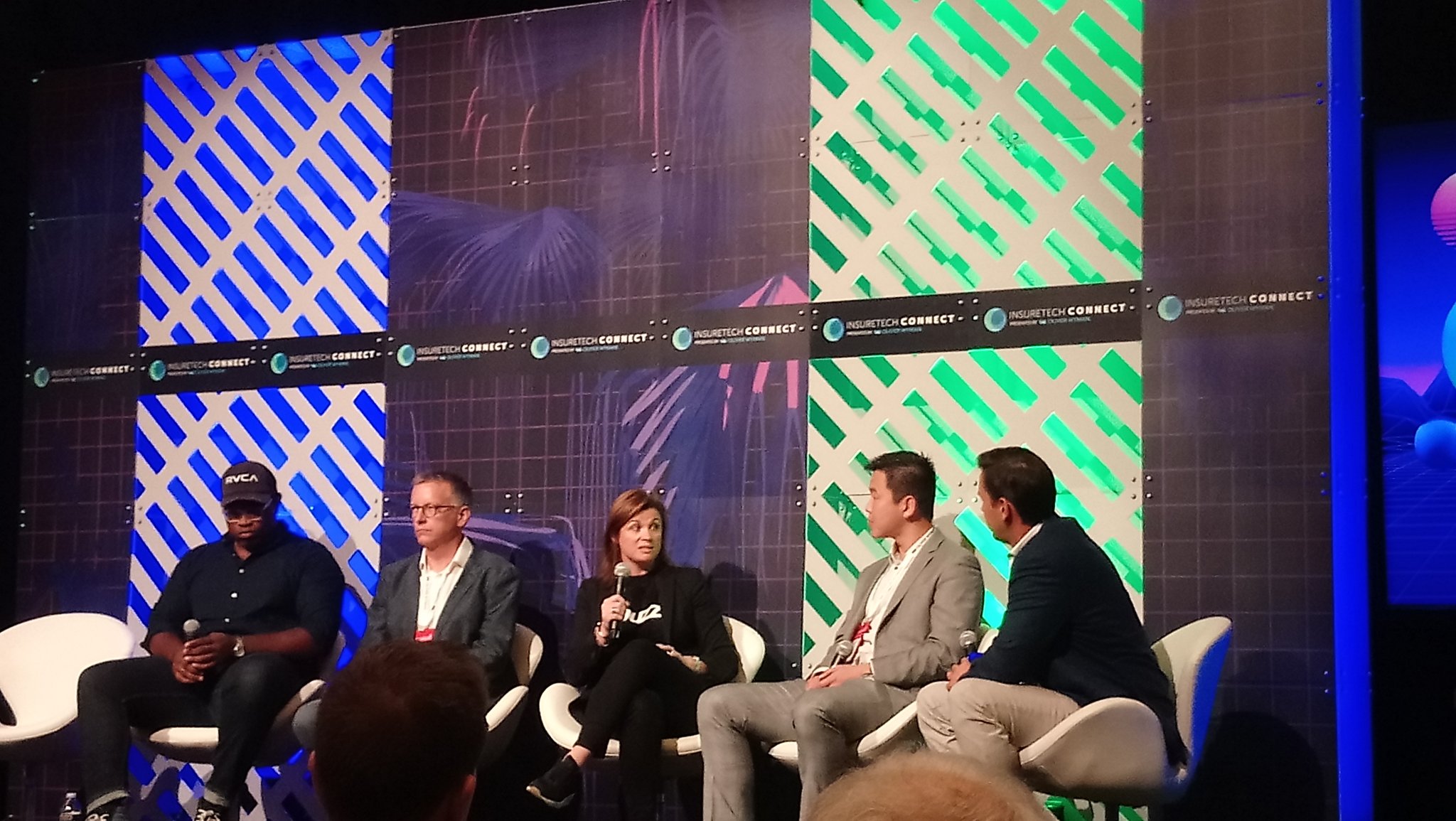 "There are many benefits to working with incumbents – partnerships between agile startup Insurtechs and strong insurance companies can bring fantastic benefits. But there are challenges and we need to understand each other." Becky Downing, CEO at buzzvault
There's been so much great discussion about every aspect of the insurance value chain that we couldn't help wondering what the future holds for this timeless but ever-evolving industry we work in – the $4.5 trillion question you've all been waiting for.

So what did our fellow ITCers reply when we asked them:
… What is the future of insurance?
˄ Risto Rossar (Insly and Black Insurance) is waiting for one world insurance company to emerge …
˄ Daniel Ross, of Yellowwoods Ventures Investments, reckons it's all about collaboration …
˄ For USAA's Jon-Michael Kowall, tomorrow's insurance proactively knows me, and solves my problems with what I own, where I live & how I drive …
˄ EY's Matthew Tucker is placing his eggs in the baskets of personalisation, ease and simplicity …
˄ Gareth Eggle (Eggle Consulting) puts risk management and loss prevention above claims and compensation any day!
˄ ChainThat's David Edwards is all about blockchain
Milliman's Sheri Scott wants to wave goodbye to the insurance dinosaurs!

We're running a poll to see what the overall sentiment is on the #futureofinsurance – cast your vote here if you're feeling inspired and we'll have the answers for you at the end of ITC.
We hope you've all had a great first day at @insuretechnow! 😎

We've certainly witnessed some excellent debates, so we were wondering … If you had to choose 1 thing only, what would you say was the future of insurance?#futureofinsurance #ITC2018

— buzzvault (@buzzvaultHQ) October 3, 2018
We continued gathering perspectives on the #futureofinsurance on Day 2 as well – more video shorts follow below, with Nigel Walsh, Sabine VanderLinden and Dylan Bourguignon!
October 2nd Day 1: Afternoon & Evening
3:00pm: time for the InsureTech Face-off Debate hosted by Capgemini's Bill Sullivan – the audience was split 50-50 between incumbents and Insurtechs, and we had some great discussion on Twitter to boot.
No day at a conference would be complete without a hearty dinner. We took the chance to catch up with our friends and partners at Munich Re Digital Partners.
See also: Three Reasons Why We're Attending Insuretech Connect
October 3rd: Rise and shine, let's bring on Morning Day 2!
That was a fantastic first day, with an ITC high of around 8000 people and an unbelievable number of sessions on offer. We've had great fun showing off buzzvault to the world and doing plenty of Insurtech people-watching. Now, fully rested and breakfasted, we're ready to take on Day 2.
What's particularly great about this year's event that there's so much talk of collaboration and partnerships across the industry – indeed, being a part of this was one of the three big reasons why we attended.
In fact, we were so happy, we went and did this:
So what have we been up to so far on Day 2? Well, for a start, we got our caricatures done at the Capgemini booth …
There are so many great new people to meet at this year's Insuretech Connect that we could stay all week and not meet everyone. If you're still around and you've got a second, come by Booth K1 – we'd love to add you to our highlights reel!
Meanwhile, reunions aplenty …
And no time at a conference could possibly be complete without someone sporting an absolutely splendid costume – here's looking at you, Bold Penguin!
October 3rd: Day 2 Lunch and Afternoon

Today has been an afternoon of great debates, which takes us back to our principal question from yesterday. In our Day 1 social poll, respondents suggested personalisation would have a major role to play. But it definitely can't do any harm to have a few more perspectives from Day 2!
So… what is the future of insurance?

˄ Deloitte's Nigel Walsh it's about being customer-centric, not product-centric …
˄ startupbootcamp's Sabine VanderLinden thinks the future of insurance is all about ecosystems …
˄ Back to the future: So-Sure founder Dylan Bourguignon thinks insurance needs to get back to its 17th-century roots …
Insuretech Connect wouldn't be complete without a helping of Vegas razzmatazz and high spirits. Here's a selection as we stumble towards, and through, the after party:
And, renaissance folk that we are, we even found time for a bit of sport** along the way:
** table football is definitely a sport
And now… time for the afterparty!
Featuring the one and only Salt N Pepa
Obviously we found a digital camera's worth of images this morning but, well, Vegas rules … Instead, we leave you with this fancy-dress shot. That's Penguin-level stuff! Thanks for making this a great ITC 2018 and see you all next year! ❤️
________________________________________________
Contacts
-Press & Media: press@gobuzzvault.com
-Investors: investor@gobuzzvault.com
-Insurance Partnerships: partnership@gobuzzvault.com
Or follow us at on Twitter and LinkedIn